In this digital era, most of us are starting our own businesses and most have started already. Once anyone plans to start their business, they finalize their business model and concepts. Then, the first thing that comes to their mind is how they are going to make their online presence. The first thing that comes to mind for online presence is the website(usually people prefer to have a WordPress Website).
In the world, more than 65% of the total population have mobile devices, and 48.37% of people of the total population have smartphones. According to a website, the global smartphone users have increased by 40% in 2016-20 and by 2025, 72% of all internet users will be using smartphones to access the web.
The above data indicate that the website of a business will play a very important role in the future. Most people will be accessing the website on their smartphones. So, for the newcomers, the question arises- How should we have to proceed with creating a website from scratch? Below is the step by step process-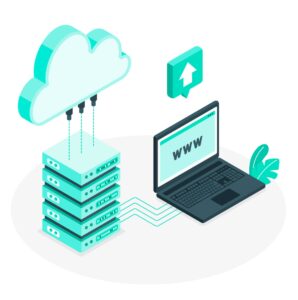 Hosting
Usually, there are many types of hosting services available like- Shared hosting, VPS hosting & Dedicated Servers but as the website is going to be started, Shared Hosting is good to go.
Why WordPress Platform:
After finalizing hosting, the next step is to choose the platform. WordPress is an open-source platform and is used by people all around the world.
According to Search Engine Journal, approx. 40% of the total websites on the web are using WordPress. Among the websites, that use a Content Management System, WordPress is being used by 64% of them.
If your business has just started or is going to start, first you should consider the platform which the website will be using. The points to support this suggestion are given below-
Supports Code Customization
Ease of doing SEO
Speed Optimization
Readymade Templates
The 5 important points:
Theme Selection

WordPress has a lot of themes available to start with. Before selecting a theme we should consider the performance and the features of the theme. Some themes are free where some of them are paid. These WordPress themes help users to get their website live in a very short time as they have their navigation & structure ready with dummy content and images. They are highly customizable too and can be customized as per the requirements. This helps newbies to create their new website easily.

Importance of Website's front page

A website's homepage is the face of your business and it should be well designed and structured so that if a new visitor comes on your website, it engages the new visitors and give them a good browsing experience. The homepage should have engaging content and 'Call to Action buttons that allow the visitors to take an action while browsing your website's homepage. These actions can be of different types like- Data Submission, Link Clicks, Playing Video, etc.

Footer's Importance

A website's footer section is also a key point for the business. It usually covers the sitemap/links which are not available on the front but are important for conversion. It can include a short description also about the business. A contact form/Contact details should be available in this section.
Loading Speed

As we know that more than 50% of users browse the internet on their smartphones and it is expecting to become 72% by 2025, our priority should be a fast-loading WordPress website. A slow-loading website usually loses visitors at the first point and it is a major drawback of getting clients from online mediums.

So, after creating the homepage, we should do the speed testing on Google Page Speed Insights which gives the points on which the page needs improvements. We should implement the improvement points as per the Page Speed Insight report with the help of some technical person (if required).

Responsiveness

The ability to adapt to every screen is known as website responsiveness. Usually, the themes are responsive but they may not be fully responsive or there might be a case where the responsiveness breaks because of some customized code implementation. After creating the website, we should check the responsive nature of all the pages. If the website is fully responsive, it gives a good user experience which helps in maintain Brand Reputation.
Apart from the above, there are many other points also which need to be in consideration while creating a website. We at Benchkart, are having Project Experts who have vast experience in their fields of technologies & platforms like ASP.Net, Java, PHP, WordPress, Shopify, Magento, Node JS, React JS, etc. and can help you with a Free Consultation and guide you in your online presence and performance.
To book a FREE consulting session with one of our experts, drop your details here