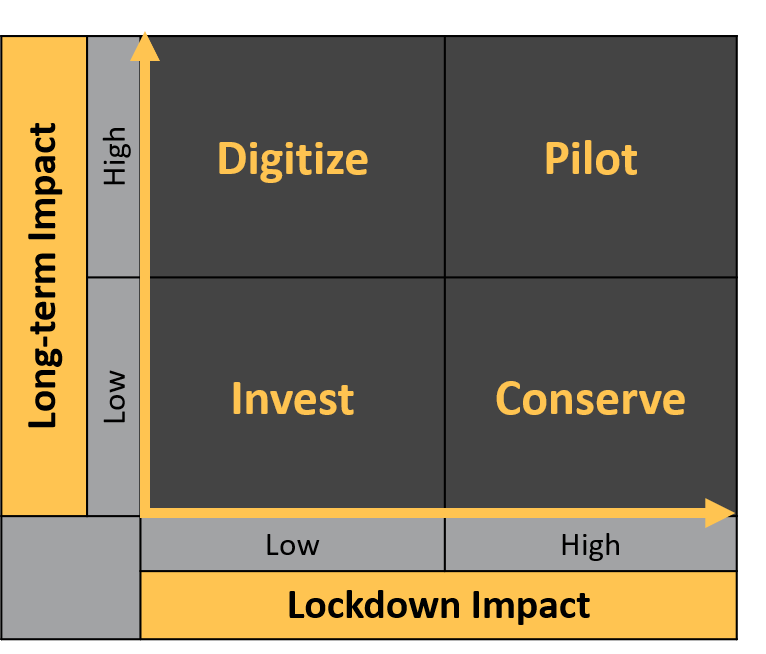 Strategies for the New Normal
We are amidst unprecedented business environment. This, more than ever, is the time to choose wisely.
The Benchkart platform sees hundreds of companies employ innovative strategies and undertake projects based on those strategies. Our framework is based on the trend in the kind of projects that companies undertook. Companies undertook projects based on how they perceived the short term & long term impact of the post-pandemic world. We call this the "New Normal Framework". For adoption of this framework, companies must analyse which block they are in, based on the Near-term Impact (High, Low) & Long-term impact (High, Low) of the pandemic. We recommend 4 strategies depending on which block they are in".
E.g. If you believe that although the near term pandemic impact is highly negative (due to travel restrictions & social distancing requirements) but the long term pandemic impact is low negative or positive, your strategy should be to "Conserve".
Once you have analysed which block best represents your business, we recommend you 4 digital strategies for the new normal
Invest: If your business is not negatively impacted by the lockdown, this is a good time to invest & set the business up for future. Take advantage of the downturn to get good deals on your IT infrastructure upgradation, process outsourcing or cloud migration. Industries like ed-tech, specific players in pharma & health, business consulting and e-retailing are investing a lot right now.
Pilot: On the other extreme, industries like travel & tourism, bars & restaurants, sports & fitness have both a short term & long-term challenge, unless they try new approaches. They also should not spend excessively on these new approaches. Quick small-scale pilot projects are an effective way to test new ideas. Finding reliable partners in this journey is key to long term success.
Digitize: Industries like Retail, esp. of essential goods, had minimal impact in the short term, but are likely to be impacted by increase in e-commerce in the longer term. Business owners here need to look at improving online presence, increasing digital marketing and adding services like home delivery and digital payments.
Conserve: Some businesses, esp. Start-ups were impacted more due to the challenges with finding talent & capital. Re-directing the spends from full time employees into out-sourcing, from office spaces to work from home, and from traditional media to social media are some of the ways they are smartening up in the short run to keep the dreams for a great future alive.
Get started on your project
Find & work with the Right Agency for the Right Price. Get India's finest agencies across IT Services & Digital Marketing to work for you.
Post Your Project
Partner with agencies which are industry experts
The right agency partner will not only execute your plans but bring their own wealth of experience to add to your plans.
100
+
Agencies in each major category including Websites, Digital Marketing, Mobile Applications and Software Development.
51
Cities in India represented by Agencies on our platform. More than 3/4th of them also serve SMEs in US, Europe, Middle East & Asia Pacific.
2:43
Hours have been spent on an average by our consultants on every customer who needed help getting their project defined
15
Point checklist has been used by us to review each agency including customer ratings, infrastructure, online reputation, management, ownership structure and industry experience.